Basic Information
| | |
| --- | --- |
| Product NO. | JNTC05-01RY01 |
| Appearance | Brown Red |
| Moisture (W/%) | ≤10 |
| Aflatoxin B1 (μg/Kg) | <5 |
| Citrinin (μg/Kg) | ≤50 |
| Total Lovastatin (%) | ≤0.1 |
| Mold & Yeast (cfu/g) | <1000 |
| Total Plate Count (cfu/g) | <10000 |
| Package | Plastic Bag, Pasteboard Drum |
| Origin | Shandong, China |
| HS Code | 3203001990 |
Product Description
Red Yeast Rice Powder
Introduction
Red yeast rice is made by fermenting red yeast, monascus purpureus, with Non-Gmo rice. Its main coloring ingridient is monascus red. Red yeast rice has been used by the Chinese for many centuries as a food preservative, food colorant, spice, and ingredient in rice wine. It also has been used in China for over 1,000 years for medicinal purposes. Red yeast rice was described in an ancient Chinese list of drugs as useful for improving blood circulation and for alleviating indigestion and diarrhea. There is also growing interest in evaluating red yeast rice for use as a natural food dye andor preservative.
Characteristics
Steady with pH value


The alcohol solution of Red yeast rice is still red when the pH value is 11. The color of its aqueous solution turns only under the environment of strong acid or strong alkali.

Good heat resistance


Processed under 120° C for sixty minutes, the color of aqueous solution doesn't turn obviously. It can be seen that aqueous solution is very steady under the processing temperature of meat product.

Nice photostability


Red yeast rice is steady with light; And its alcohol solution is quite stable in ultraviolet radiation but its tint will be weakened in the strong sunlight.

Not affected by metal ion
Red yeast rice is quite stable to Ca2+, Mg2+ and Cu2+.
Not affected by oxidizer and reducer


When ascorbic acid, sodium sulfite or hydrogen peroxide are added in the Red yeast rice solution, its color isn't be changed.

Good coloring performance


Red yeast rice is easy to color protein or raw materials with more protein, color on which is difficult to remove after coloring.

Solubility


It is solube in fat, but not solube in water and glycerin.

Good safety


Red yeast rice has very good safety. Animal experiment indicates that any food made of edible Red yeast rice does not cause any acute chronic poisoning.
Application
Condiment(braise meat, preserved beancurd, jam);
Food(meat, juice, drink, wine, beverage, candy, noodle, health food, cake, sanitaniam vinegar and etc. );
Medicine(Medicine colorant, Medicine ingredients etc);
Cosmetic.
Specification
| | |
| --- | --- |
| ITEMS | SPECIFICATION |
| Other Name | Red Fermented Rice |
| Appearance | Red to dark purple, crisp texture, no mildew, no visible impurities |
| Smell | With red yeast rice (powder) inherented monascus smelling |
| Color Value | >1500 |
| Moisture (W/%) | ≤10 |
| Arsenic (As) (ppm) | ≤0.5 |
| Lead (Pb) (ppm) | ≤1.0 |
| Mercury (Hg) (ppm) | ≤1.0 |
| Cadmium (Cd) (ppm) | ≤0.7 |
| Total Plate Count (cfu/g) | <10000 |
| E. Coli (MPN/100g) | Negative |
| Mold & Yeast (cfu/g) | ≤1000 |
| Salmonella (MPN/25g) | Negative |
| Staphylococcus Aureus (MPN/100g) | Negative |
| Pesticide Residue | Meet USP 561requirements |
| Solvent Residue | Not use any solvent |
| Aflatoxin B1 (μg/Kg) | <5 |
| Citrinin (μg/Kg) | ≤50 |
| Open Loop Monacolin-K (%) | ≥0.24 |
| Close Loop Monacolin-K (%) | ≥0.16 |
| Total Lovastatin (%) | ≤0.1 |
Fermentation Pool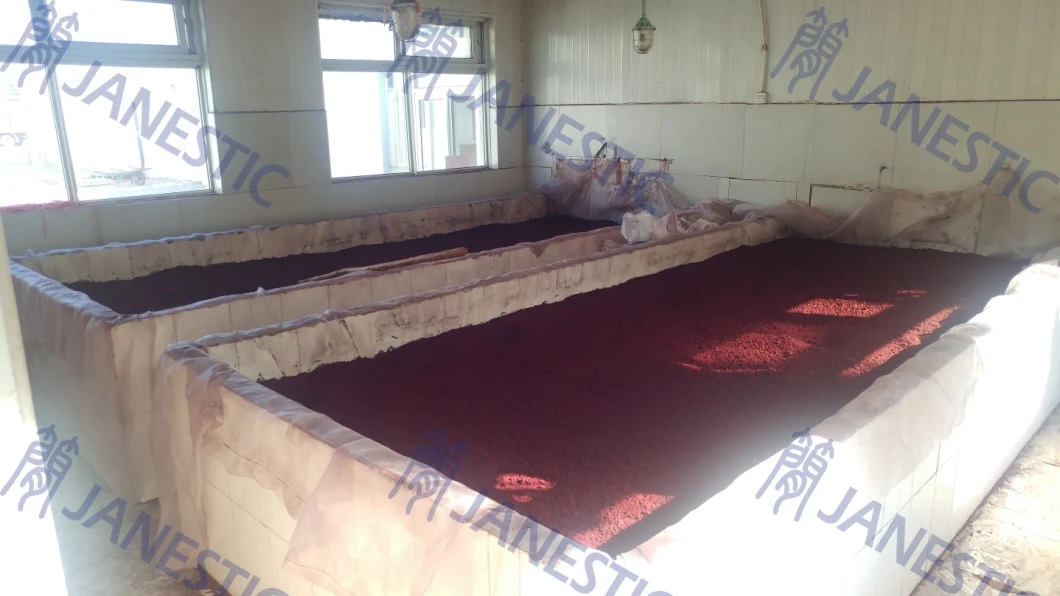 Workshop